Leverage RPA and AI to transform your business
Leverage RPA and AI to transform your business
RPA and AI together are here to make changes to the industries. Artificial Intelligence and Robotic Process Automation are said to have many things in common. Both of these technologies are popular in the current industry.
Since every enterprise is getting updated with the trends, these technologies can be a perfect way to remain updated. So, how these technologies can be implemented?
In this blog, we have discussed the importance of leveraging them for your business.
Role of AI & RPA here: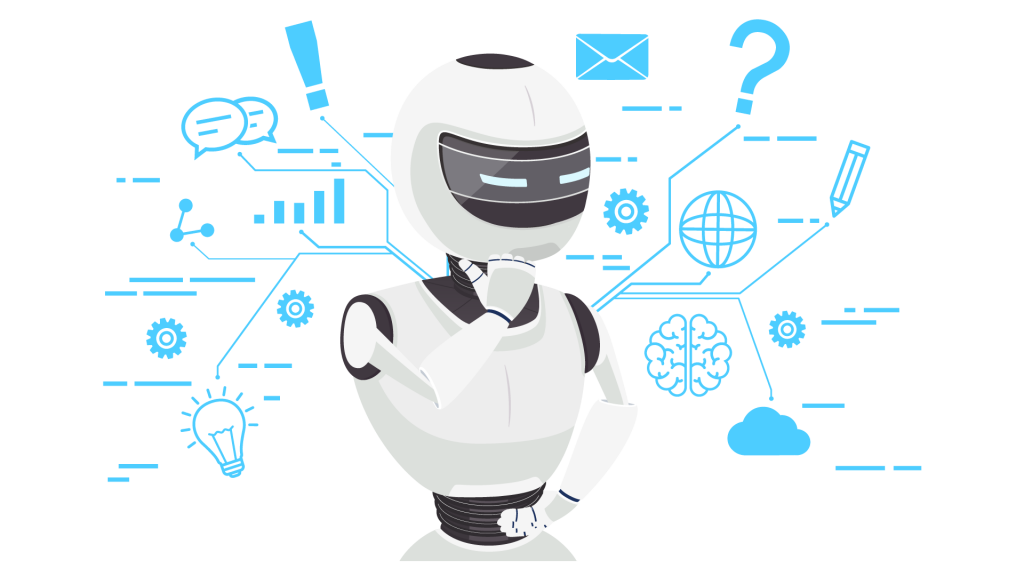 AI has already been here since the 1960s. It usually refers to machines and computers which perform the tasks of humans by adopting intelligence to accomplish them perfectly. In today's world, AI is transforming people's lives and work.
While on the other hand, "Robot" in RPA doesn't refer to a physical robot or an AI robot. In this case, it refers to a software robot, repetitive tasks, and processes, by eliminating human errors and thereby enhancing productivity and better efficiency.
These RPA bots automate all rule-based tasks. They have the capability to cut/copy/paste the data, periodically move files and folders, scrape web browsers, fill in forms, and extract data from documents. These bots complete tasks as specified by RPA qualified workers or they can leverage built-in AI capabilities.
Read Also – How can chatbots help you grow your business?

Here are the places where RPA can be the perfect fit to be used:
Logging into the applications.
Connecting to system APIs.
Extracting and processing structured content from documents.
Opening emails and attachments.
It can improve the effectiveness of various industries such as Human Resources, financial services, healthcare, supply chain management, customer service, accounting, data entry, etc.
Today's process automation is a great fit for business, offering the following:
User-friendliness
Flexibility
Non-disruptive
Scalability
Centralization
Ease of Usage
Security
Moreover, the Gartner project is spending on RPA software to hit $1.3billion for this year, and Forrester forecasting a $2.9 billion RPA software market in 2021. In fact, the global RPA market is expected $25.56 billion by 2027, and the AI market is expected to reach $390.9 billion by 2025.
However, despite many conversations, these new technologies have emerged, there is a lot of confusion over what differentiates them, which one is perfectly suited, and how they are increasingly adopted, etc. Together when implemented can offer an important role in driving operational efficiency.
Since modern enterprises deal with both complex and simple processes for decision making, adopting these couple of technologies can make the process easier in a short span of time. On one side of the spectrum lies RPA, which thrives in systems that have a clear, step-by-step flow. While on the flip side sits AI, which can augment and promote human decision making in complex processes.
Read Also – Five Key Industry 4.0 Technologies

ML, the sub part of AI: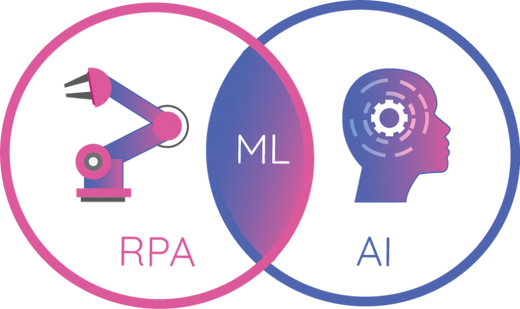 While Machine Learning is a circle of Artificial Intelligence, where machines are responsible for doing human tasks end-to-end and is also accepted to be more intelligent than them. Robotics when interconnected with IoT gadgets can make machines think and work on another level where they are outsmarting the people with their intellectualness.
On the other hand, RPA mirrors humans conduct to computerize consistently the routine workflow with the goal of enhancing productivity. One of the numerous misinterpretations is that artificial intelligence and robotic process automation (RPA) are interchangeable.
Even though the two advancements are stirring significant enthusiasm around business process automation, they each execute this task differently. Hence, this leads us to believe that there are certain contrasts between both of them.
Moreover, Artificial intelligence has the responsibility of producing quality data. It chooses the perfect Machine Learning Algorithm to perform the process and making things precise and perfect without any errors.
When both AI and RPA are combined together, can perform tasks efficiently and effectively. This means that automation becomes quicker and easier which makes an end-to-end process more sophisticated than before.
It has the capability to gather and useful data with different systems in order to offer better decisions. Modified RPA solutions can offer best-in-class solutions and executing the task in a short span of time with excellence.
RPA goes well in processing repetitive tasks by utilizing the capabilities of AI. It can also develop new opportunities and good resulting outcomes which can improve productivity completely.
Read Also – Will Cloud Computing be the future of Enterprise Application Platforms?

Conclusion:
Most of the companies have now come forward in adopting both AI and RPA together to make their tasks effectively work. Being one of the leading Digital Transformation Companies, we understood its importance and help businesses in implementing them!
If you are one such business, we can help you with hassle-free implementation at a reasonable price! Get in touch with us by quickly filling the form.