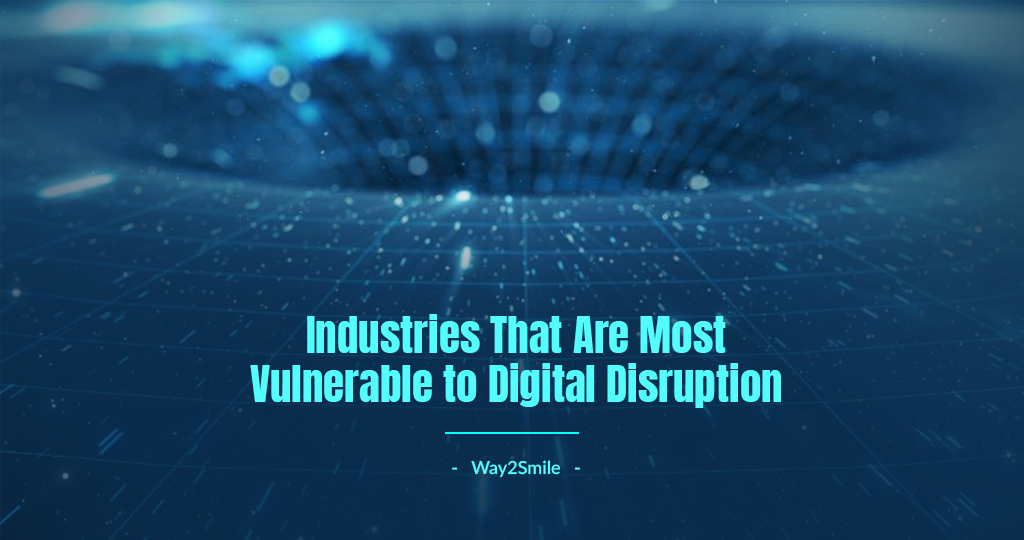 Industries That Are Most Vulnerable to Digital Disruption
Industries That Are Most Vulnerable to Digital Disruption
10
minutes
This fast pacing world is slowly moving towards the word "Technology" every single day. Digital Transformation is happening with all industries which have brought dozens of profits to them. In the current era, Digital Disruption is a must-needed thing to cope with challenges prevailing here.
If you consider companies like Airbnb, Uber has raised a plethora of benefits and has led to the growth of peer-to-peer platforms in the industry. Everything around has become smart! Be it a city, kitchen, wearables, anything! These smart things have made the life of humans quite simple and hassle-free.
In this blog, we have discussed the various industries which have been disrupted to the next level by adopting the latest technologies.
What are the top Industries Disrupted by Digital Technology Solutions?
With the increased pace of technological advancement, it has significantly changed the working process of them. If industries still haven't adopted this, then it should be done instantly to enjoy the rapid changes in the respective industries.
Here are the different industries which have already considered Digital Transformation for their businesses:
1. Healthcare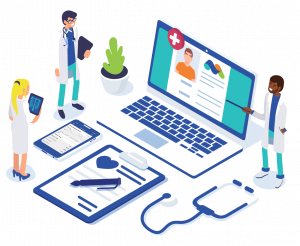 Healthcare stands as the first industry which gets disrupted. It has adopted Artificial Intelligence to diagnose the results and make results effectively. Artificial Intelligence is used to detect and prevent major diseases, figure outpatients with high-risks, automate the diagnostic tests, and enhance the speed and accuracy of the treatments.
Additionally, it can also be used to improve drug formulations, predictive care, and DNA Analysis which can provide a great impact on healthcare. In addition to this, Blockchain Technology is yet another one that can drive Healthcare to the next levels.
"According to research from Zion, the global Healthcare market is predicted to reach $12,131 million by 2022".
Moreover, technologies and equipment are connected to daily activities which make the Health diagnosis hassle-free. This is done with the Internet of Things which detects the activities and produces results accordingly.
Even staying at home, people can increase their health rather than visiting clinics. One can get Automated health equipment such as Insulin pumps, etc. Digital Assistants will be available anytime to help you. There are wearables that can keep track of this. It includes Smart Watches which can check outpatients' Heart Beat count, etc.
WHAT WE HAVE DONE WITH HEALTHCARE DIGITAL TRANSFORMATION!
HEALTHCARE  APP ON PLAY STORES (Android) & APP STORE (iPhone)
We have taken the challenges into consideration and built this application for the Healthcare Industry.
It comes with numerous sets of features separately for Patients, Doctors, Physicians, Managing Staff.
Patients can remain in their location, check with Physicians, get virtual appointments, get to know the treatments & tablets, etc.
The application also comes with three different modes of messaging which include Message/Chat Box, Audio & Video Call Options. Messages here are fully encrypted where no one can view the conversation except them.
Payment can also be done securely with the integrated payment gateway which supports multiple payment options.
2. Oil & Gas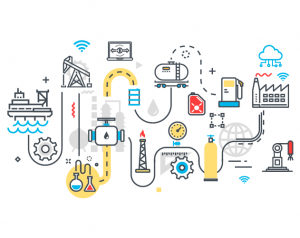 Oil & Gas is the next one. Most oil & gas companies are embracing Digital Solutions for enhancing business and generating revenues. In particular, they deal with a large amount of data compared to other industries with different numbers of employees, the equipment used, the reports, maintenance & scheduling alerts, etc.
Manual processes are completely complex in this sector and hence it needs Automation to make it easy. On implementing Blockchain here, it can make everything decentralized. Moreover, as the industry consists of multiple sensors to track process & data, Blockchain connects all the required parties without the need for a third-party.
Additionally, IoT stands the next followed by Augmented & Virtual Reality. These technologies are used to track and know the real data. Big Data is yet another one that can cut down the cost of companies at a major rate. A report states that Digital Transformation has saved around $50 Million which has reduced the downtime as well as led to saving money.
WHAT WE HAVE DONE WITH OIL & GAS DIGITAL TRANSFORMATION!
OIL & GAS MANAGEMENT APPLICATION
The Application platform enhances the performance and accuracy of the industry. It can also collect various information about the environment both online as well as offline.
It can also rapidly gather valuable data such as Geo Locations, Text, Images, Dates, and much more.
It can also enhance the field safety. Added, it can easily speed up the inspections and audits easily.
The Application is designed to cut off the additional costs and manual efforts surrounding with Spreadsheets, Forms, etc.
3. Travel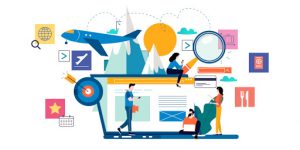 Travel is the never-ending industry that requires automation for enhancement. Gone are the days when people would require a Travel Guide to discover a city and look for restaurants for dining at their budget.
With increased Digital Automation everywhere, traveling has become mandatory as well. There are dozens of benefits that make travelers, hotel & restaurant owners and local vendors work completely easy. This is done by integrating feature-rich technologies such as Artificial Intelligence where people can access data from any device and anywhere.
It also comes with automated voice chatbots which can help the travelers in determining their routes and suggesting locations of their interests. As numerous devices can be connected with the Internet of Things, one can leverage the data for their enhancement.
With Virtual Reality, travels can watch out real-time images of the desired location. It can give them a clear picture of how it actually looks, enhancing the experience. On the other hand, hotels & local vendors can maintain a fruitful reputation over social networks and applications. This can take their business to the next levels.
WHAT WE HAVE DONE WITH TRAVEL DIGITAL TRANSFORMATION!
TRAVEL APP ON PLAY STORES (Android) & APP STORE (iPhone)
To contribute to the Travel Industry, we have developed this mobile application for travelers, hotel owners & vendors.
We have adopted Artificial Intelligence which could track the interests and preferences of the users either via Social Accounts or Itenary (which users can quickly customize/ fill).
Travels can also get to know the locations nearby. It includes being a must-visit one, a hotel/ restaurant of their budget, a nearby event that they may be interested in.
Additionally, local vendors who are selling their products can register on this app and can enhance the business. Similarly, people looking to organize an event can create news here.
If there are any local chefs within the location, they can register to gain the traveler's attention. Travelers looking to taste local home foods can reach out to them as well.
4. Finance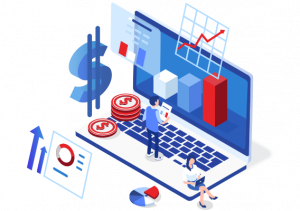 Finance is the next industry with Digital Disruption. Since it is one that is needed for everyday activities, automation helps in enhancing it. Manual calculations would lead to factors such as time-consuming, and errors if not done properly.
Moreover, managing huge amounts of data is not so simple. Hence, this industry requires Automation to the core to get rid of the above pain points. It includes technologies such as Blockchain which can make these processes hassle-free.
On implementing Automation, a finance industry can enjoy benefits such as Faster Performance with the adoption of Big Data which can easily detect the total budget for the teams. Added, Automation can assist the teams in driving insights rather than on calculations.
This can also provide better customer experience and instant answers to all their queries. Users can also be guaranteed with faster transactions without any complexities involved. Moreover, these automated tools can replace manual processes such as Money Remittance, Invoice Generation, KYC Verification, etc.
WHAT WE HAVE DONE WITH FINANCE DIGITAL TRANSFORMATION!
INSURANCE WEB APPLICATION
This Insurance platform comes with multiple features that are beneficial for stakeholders in this industry.
This App comes with a separate set of features for the owner of the product, Employees, Broker, Adjudicator, etc.
Moreover, Email Templates are also available which can be customized according to the needs.
It also comes with a Reports section that contains all sets of data that can be verified further and sent for claiming.
5. Transportation & Logistics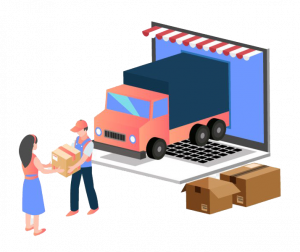 Supply Chain & Logistics have suffered from numerous challenges that need to be automated soon. And, yes there are companies which have done already and reaping profits in the industry. It can get rid of real-time challenges and brings out desired Technology Solutions.
It includes Supply Chain inefficiencies, enhanced visibility, improved demand-supply matching, etc. With advanced Data Analytics techniques, it can create new analytic tools that can optimize the efficiency of the business.
Additionally, the process can be streamlined and core processes are done at ease which is also quite simple to maintain. With Augment & Virtual Reality, vendors can keep track of the live location of the vehicle with which predictions on delivery timing, etc can be done.
And also, results in operational efficiencies in distribution, warehousing, picking, and packing. With this data, chatbots are assigned to send those data to the customers. Hence, the customer experience can be enhanced.
WHAT WE HAVE DONE WITH LOGISTICS DIGITAL TRANSFORMATION!
MANAGETEAMZ MOBILE & WEB APPLICATION
We have built this feature-packed application that can keep track of live location instantly. This is applicable to all industries which include E-Commerce, Food Delivery, etc.
The application comes with a separate set of features for both Admin and User end, we have made the process quite simple. Also comes with a reports section where data are stored.
Notifications and alerts are regularly sent to the customers which include the information of dispatch, delivery date, contact details of the delivery person, the live location, etc.
Read Also – Why data analytics is essential to your organization's pandemic recovery?
6. Education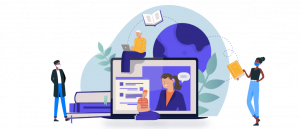 There were days when students & teachers/professors have to rush out to the educational institutes on time to get started with classes. With Digital classes, everything has turned upside down. One just needs a high-speed Internet Connectivity along with mobile/desktop in this case.
When it comes to Digital Transformation here, AI and one of its sub technology have disrupted the young minds in a positive way. Additionally, it has become easily accessible to both students and professors who can access them anywhere anytime.
This is done with Cloud Solutions Integration. All the academic notes and books are shared via the cloud which helps in enhancing knowledge accessibility. If in case there are issues with learning, one can choose either voice, chat, or video to rectify them.
Internet of Things has enhanced the educational institutes to a greater level. Different types of sensors can be places to lively track everything throughout the campus. Also with real-time communication tools, teachers can share assignments and students can also share their homework.
Big Data Analytics comes the next which helps out guides in generating the reports hassle-free. An educational institute may consist of records of multiple students which is complex to maintain with manpower. With automation, it becomes quite easy.
Read Also – Re-imagining cloud computing in a Post COVID-19 world
7. Agriculture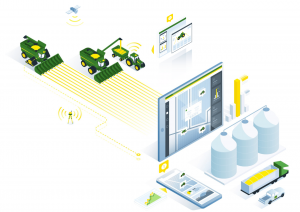 One of the top-profitable yet a growth needed industry is Agriculture. It is much important to implement Digital Technologies to help out farmers in getting their desired profits for their hard work. Similar to other industries, Agriculture also has a great scope in the future.
Predictive Analysis can help out them in analyzing the future of their market. This can also lead to jobs for the young generation. They also provide a chance for consumers to literally view how the food gets produced.
Additionally, Robotics has reduced manpower to a greater extent. This includes performing various processes such as Spraying, Weeding, Harvesting, Collecting them, etc. This can thereby increase the yield potential to a higher level.
With IoT, agricultural equipment can be interconnected to the network for tracking. This can streamline the production, inspect the current status of it, distribute the resources, etc. Sensors will allow the farmers to know the real-time status of the crops and other food items by staying anywhere across the globe.
Drones are the next ones that can monitor crop growth every day. This has gained potential popularity among the farmers in recent days. Added, this can also sprinkle the pesticides to the crops at a faster rate than human power.
WHAT WE HAVE DONE WITH AGRICULTURE DIGITAL TRANSFORMATION
AGRICULTURAL APP
We have built a customizable solution that connects both Farmers and Buyers in the Agricultural Industry.
The application ignores the need for a middleman to process the operation which cuts off the additional cost.
The farmer can set the desired price of the food products and directly open it for the purchase of Buyers.
We have implemented IoT which can track the data of various items via the sensors which we have placed.
Read Also – Undiscovered Benefits of Bespoke Software Development for Enterprises
8. Automotive Industry
Digital transformation in the automotive industry is rapidly advancing & evolving with modern technologies. Digitalization, rising automation, and new business models are reshaping their entire industries, so automotive will be no exception.
The PwC research states that "It is expected that over 95 per cent of cars will be electrified by 2030". Automotive manufacturers are leveraging contemporary technologies in their core business operations, from design to production and sales & marketing to supply chain management.
Shared mobility, autonomous vehicles, predictive analytics & IoT based connectivity tools, and service-oriented mobility are some major digital transformation trends in the automobile industry.
WHAT WE HAVE DONE WITH AUTOMOTIVE DIGITAL TRANSFORMATION
We have developed car dealer management, auctioning software by harnessing contemporary technologies tools & stacks.
Our DMS solutions cover the inventory management, finance, and lead management solutions that solve the real problem & unlock the true productiveness of the business operations.
With Auction software – this platform simplifies all your needs by creating an interactive atmosphere – you can add pictures, multiple videos, and other interactive features to hold things interesting.
Conclusion:
Let Digital Disruption influence and impact every other industry such as Governments, Data Protection, Device Manufacturing, etc. It would turn out the world into a data-driven environment with limited manpower thereby reducing the errors and time involved.
If you are one such industry, struggling with complex activities, why not leverage Digital Technologies into your business? We're here to help you out with this at a very reasonable rate! Get in touch with our IT Consulting experts to know more about this!