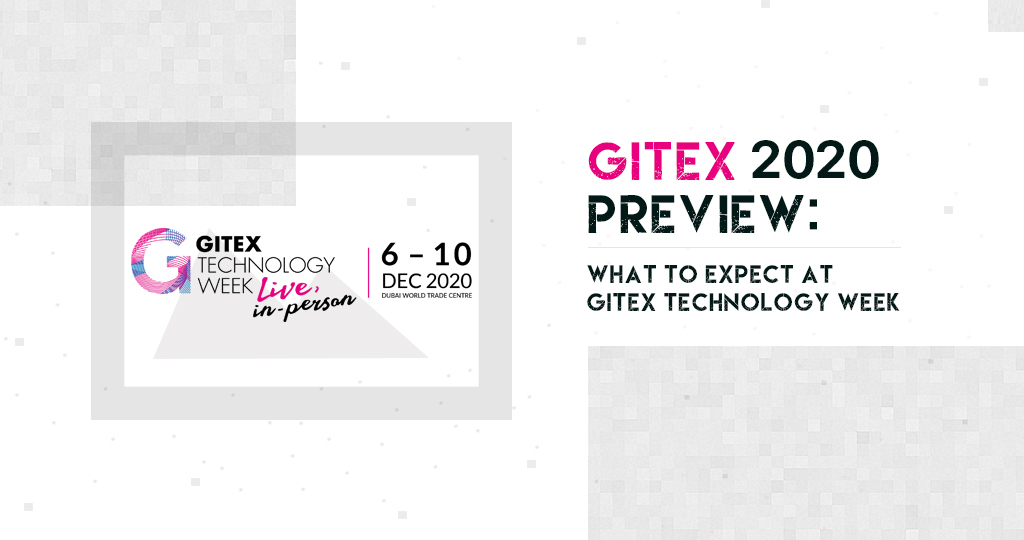 GITEX 2020 Preview: What to Expect at GITEX Technology Week
GITEX 2020 Preview: What to Expect at GITEX Technology Week

GITEX, the most popular tech event is just a couple of days! GITEX Technology Week 2020, being the top conference, the event will be surrounded by like-minded professionals who are experts across various industries. Right from startups, mid-level businesses to Enterprises would participate at GITEX to scale up themselves!
The event is set to happen at the Dubai World Trade Center with around 1,00,000 visitors from different countries of the globe. Moreover, this is going to be the very first event to happen after the pandemic!
The technology week is set to have dozens of benefits without any doubt. In this blog, we have discussed the major things which we can expect by attending the GITEX event!
Things to expect with GITEX Tech week:
1. Partnering with businesses
This can be a great opportunity to partner with new businesses. Similar to your business, you can expect a huge number of them to visit at the event! You may either share your ideas/views or get to know theirs!
If it connects you both, it becomes mutually beneficial. Hence, while attending the event ensure you speak with co-business, to gain new partnerships. Get all their contact details, follow & connect them via social networks! 
2. Connecting industry-leaders
GITEX event is the place where you can find the top leaders dealing with the leading technology! You can get in touch with them regarding your ideas and check what would be their opinion on them! Prior to the event, it is important that you google something about the speakers!
You can get to know their expertise across your niche and hence shoot your queries accordingly. You can also follow their social media profiles and connect with them for regular updates! You can get to know a bunch of positive information from them!
Read Also – How to make business exhibitions as GITEX Technology Week works for you?
3. Learning Insights
With your participation at GITEX, you can get to learn the present and future technologies and how it could impact your current business! This can encourage you to take a clear path and reach the expected destination you are looking for!
You can also get to know the latest software tools and techniques which might help your business! If you have already adopted any tools, techniques, ensure they are feasible for now as well as for the future!
4. Showcasing your views
If you have a plan to showcase your product or launch a new service, GITEX can be the place to initiate them. As the stage is occupied with industry-leaders, you have a great opportunity to exhibit them and get their views on them.
5. Collect your feedback
You don't just have to stop with exhibiting and sharing your views on the products or service. Also, make sure you get the desired feedback from them. You can get in touch with your team and implement those feedback into your solutions effectively. 
6. Scale-up yourself or your business
You as a business owner can make your dreams come true. This can either be connecting with other business partners or learning the things from the event, check with your team, implement them rightly with them. 
If you are a person looking to equip yourself, it can also be done! Make a note of the things discussed, start learning about them, discuss with your colleagues, and find a way to implement them perfectly.
Read Also – Things to consider while attending the Tech Event GITEX 2020
7. Learn your competitors
Competitors are the best people from whom you can learn great things. At GITEX, you might find your competitors out there! They may either be exhibiting their products or showcase their views of different technologies as well!
From this, you can get to know the various tactics which they handle to build solutions. Make notes of it and check if their strategies are feasible for you! This can help you to stand out from the crowd and enhance your visibility!
Conclusion:
Undoubtedly, GITEX is here to bring all the above! This event shouldn't be missed if you are looking for new opportunities to grow yourself or your business. Make sure you have booked your seats there to avail these benefits!
If you haven't, we can help you by offering GITEX virtual passes. Added, we're also a part of this grand event by exhibiting our product. If you have any business ideas to be achieved, we can assist you in providing the right solutions in accordance with your business needs.
Make sure you visit us at Hall 7: E24 to discuss more on your ideas!

Press Releases:
Way2Smile is now an exhibitor at 40th GITEX Tech Week 2020!Revolutionary Delivery Management App ManageTeamz 3.0 set to launch in GITEX 2020Launching DigitalWorkSmart – A platform that simplifies your Digital Transformation Journey