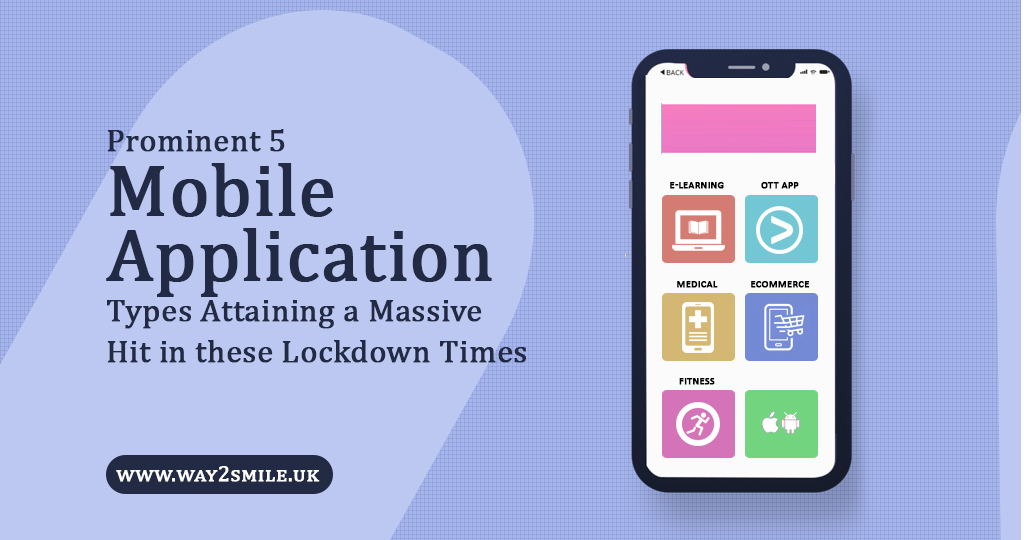 Prominent 5 Mobile Application Types Attaining a Massive Hit in these Lockdown Times
Prominent 5 Mobile Application Types Attaining a Massive Hit in these Lockdown Times
The coronavirus pandemic hit the world hard, forcing individuals to stay within the premises of their house. With social distancing being the norm, people are not allowed to gather around and socialize. This means no movie nights with friends, no dinner dates at a fancy restaurant, no shopping at the malls, no gyms, and no in-office work. When the lives of people were turning into a disaster, mobile applications came to the rescue. Apps ensured that the lockdown didn't hold back people from basic essentials and necessities like groceries, movies, education, health, and fitness, etc. In fact, apps have made it possible to get it all just from the comfort of your home right away. There are different types of apps from different categories that can engage, encourage, educate, and entertain to help people cope with this unpleasant situation.
With the World Health Organization (WHO) addressing that the covid-19 pandemic is not something you will easily get rid of soon, technology will help in coping with adjusting to the new life.
The Rise of Mobile Applications During Pandemic
Today, life as we knew it no longer exists. People are entirely dependent on mobile applications to keep on with their day-to-day lives. Students use apps to attend online classes. People working from home use mobile applications for video conferencing and meetings. Employers use mobile apps to keep track of employee activities. People entertain themselves through OTT platforms and streaming services. On-demand applications are being used to order medicines, grocery items, food, and an array of other items.
Simply put, if the use of mobile applications was a choice for many before the pandemic hit, now it has become a necessity.
While the pandemic is causing a global economic crisis, the demand for goods and services is also continuously increasing. There is a whopping growth seen in the development of mobile applications. Because the niche is diverse, a mobile app development company can be seen working on different apps from different categories.
A study in 2020 found that:
In pandemic time, 90% of the mobile use was spent on applications
49% of people open an app 11+ times a day
57% of all digital media usage comes from mobile applications
48% of daily internet access occurs through mobile devices
There is a 132% increase in the number of app installs
Top Mobile App Categories Whose Growth Soared High During the Lockdown Times
As the pandemic forced billions of people to stay home, these seven app categories eased the lifestyle during the lockdown. What's interesting is that there are multiple apps from the same category. Thus, people really have a lot of options to choose from based on their preferences, whether it is the UI, price, convenience, ease of use, etc.
So, let's get started with the top app categories.
     1. E-Learning Apps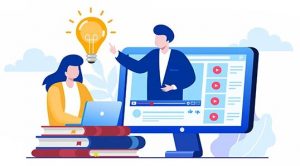 In a sensitive time like this, where parents are concerned about their children's education, e-learning applications have appeared as a blessing. While educational institutions and schools are closed, e-learning and online education apps have gained momentum among students and faculties. Every school and colleges across the globe have tapped the digital platforms for their students to arrange online classes and make learning uninterrupted. E-learning apps are interactive and make learning fun and interactive. There are plenty of educational apps out there for download. On the other hand, with the likes of video apps like Zoom, Google Meet, Skype, Microsoft Teams, etc., institutes are conducting webinars and online lectures.
Read Also – Why are Mobile Applications crucial for School Management Operations?

     2. Food Apps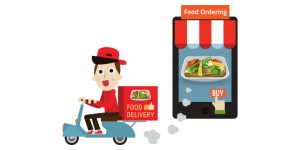 One of the most not-so-surprising entries in this list is the food app category. While cafes and restaurants were shut for the public, they continued with their services online. This was the primary reason why these businesses flourished well even during the pandemic. Since people cannot go out to have a nice dinner, they ordered. It was not only convenient but gave them the chance to order from their favorite restaurants in town without any hassle. Another reason why the food apps were all the rage was that ordering food is cheap compared to dining at a restaurant.
     3. OTT Apps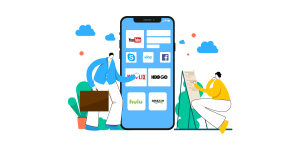 With theatres closed, movies started to release on OTT platforms like Netflix, Amazon Prime, HBO Max, etc. This ensured that entertainment never stopped for people in distressing times. In the last two years, no movie has been released in theatres. And because people were locked inside their homes, OTT apps proved to be a great boredom killer. From good-quality TV shows to movies, people binge-watched their way out of the lockdown. Seeing this, many mobile app development companies started making OTT platforms for different sets of audiences, that ranged from English shows to Korean Dramas, and more.
Read Also – How Mobile Apps Are Transforming The Entertainment Industry?

     4. Healthcare and Fitness Apps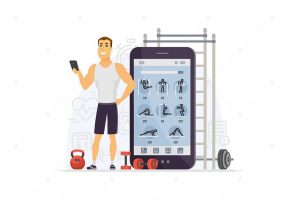 With most gyms closed and restrictions on going out, people failed to stick to their workout regime. Also, people who visited their doctors for regular checkups chose not to during lockdown. Instead, they started using mobile apps that connected them directly to general physicians. The patients can make video calls to have face-to-face conversations and tell about their problems and get prescriptions. Also, there are apps pre-loaded with different workouts, from HIIT, cardio, yoga, strength training, bodyweight training, etc. So, it wasn't a surprise to see the outstanding surge in healthcare and fitness apps. The apps are so advanced that it can tell you the calories burnt, keep an eye on your sleep patterns, and more.
Read Also – Healthcare Mobility Solutions: The best communication interface between patients and healthcare practitioners

     5. E-Commerce Apps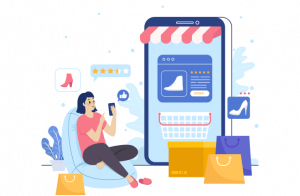 Lockdown didn't stop people from buying things they love or want. Courtesy of e-commerce apps, people bought everything they needed during the lockdown from the comfort of their homes. From home essentials to grocery items, clothes, office supplies, furniture, and more, e-commerce saw a massive surge, with more and more people enjoying the new way of shopping. Big e-commerce platforms like Amazon, eBay, etc., ensured that people got what they wanted while they were locked up in their homes. Even brick and mortar stores launched their own e-commerce stores online, allowing shoppers to purchase their favorite items without having to physically visit the store.
Read Also – How The complete step-by-step guide for startup businesses about the customized mobile app development process and benefits.

Conclusion
It is said that things will take time to come back to normal. And we believe that the habits and experiences we endured in these tough times will remain with us for the rest of our lives. Mobile applications have proved to be a worthy entity that made our lives easier. Therefore, more and more businesses are looking to develop mobile applications to promote their products and services. If you say that you didn't use any of the mobile apps during the lockdown, that's a little hard to digest.